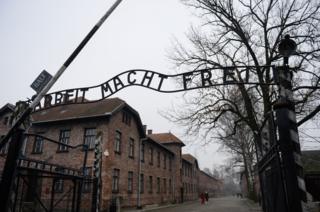 A TikTok trend where people pretend to be Holocaust victims is "hurtful and offensive", the Auschwitz Museum says.
Users have shared clips of themselves with fake bruises, wearing clothes that Jews were ordered to wear by the Nazis.
The museum – at the site of the former Nazi concentration camp – said some of the videos on the app were "beyond the border of trivialization of history".
But it warned against "vilifying, shaming and attacking" those who have taken part.
The trend has been heavily criticised on social media as "disrespectful" and "disturbing".
In a statement, the museum says: "Stories of people who were imprisoned and murdered in Auschwitz are incredibly tragic, painful and emotional."
It adds that some of the videos "were not created to commemorate anyone but to become part of an online trend".
"This is very painful," the museum says in the statement posted on Twitter.
However, it adds that the "motivation of some people" posting the videos came "from the need to find some way of expressing personal memory.
"They use the symbolic language familiar to them."
Rather than shaming those who participate, it should be used as an "educational challenge", the museum says.
The Holocaust saw the genocide of six million European Jews people and more than a million people were killed at Auschwitz between 1940 and 1945.
TikTok has not yet responded to Newsbeat's request for comment.
Follow Newsbeat on Instagram, Facebook, Twitter and YouTube.
Listen to Newsbeat live at 12:45 and 17:45 weekdays – or listen back here.