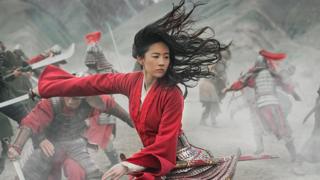 Ever since she can remember, Emily Talbut's been a massive Disney fan.
"I got the dresses for Christmas, played dress-up, and I got to go to the parks with my family," she tells Radio 1 Newsbeat.
"I just grew up in a progressively more intense Disney household, I guess – probably driven by me and my sister, because we just loved the stories and the music as well."
Emily's go-to costume was Belle from Beauty and the Beast.
"Belle had brown hair, like I do, and she liked to read – and that was basically me. I could see myself in the character".
When the Beauty and the Beast remake came out in 2017, starring Emma Watson, Emily was delighted.
"A big reason why that's still probably my favourite live action remake is the nostalgia playing into it," she says.
For her. the appeal is "the idea of going back to your childhood again – but in a reimagined way".
Disney Plus launched in March, granting us on-demand access to all the old classics.
And for the first few months of lockdown, it was all Emily watched.
"It was very comforting in that very scary period to just have old favourites to turn back to and relive," she says.
She went straight to "the ones that are the most comforting, like the key soundtracks from the 90s that I loved."
That feeling – of comfort, losing yourself in another world, going back in time – is hard to beat, especially in such turbulent times.
It's something Disney is particularly good at creating. But does that mean the feeling can be exploited too?
Nostalgia in the time of corona
"Nostalgia is commonly defined as in a sentimental or wistful affection for the past," says Dr Wijnand van Tilburg, a psychology lecturer and expert in nostalgia at the University of Essex.
"With the remake of some of these movies, it might be that they capitalise on those past feelings of nostalgia and make us fondly remember those past events."
He adds that it's "overall experienced by people as a as a somewhat positive, bittersweet emotion."
It can also be useful during uncertain and difficult times.
"Research shows that nostalgia is quite effective in combating loneliness, boredom, and sadness. And these are all experiences that that not implausibly have arisen during the lockdown."
Part of the reason nostalgia can be useful, he says, is because it "contains strong social elements."
It can help us feel more connected with others who have the same shared experiences.
The numbers game
Mulan is Disney's retelling of its 1998 animated film, which was based on the Chinese legend the Ballad of Mulan.
Its release – a few months delayed and on Disney Plus rather than in the cinema due to coronavirus – comes off the back of three Disney makeovers last year: The Lion King, Aladdin and Dumbo.
Cinderella kicked off the latest batch of "reimagined" works in 2015, followed by The Jungle Book (2016) and Beauty and the Beast (2017).
With the six recent remakes raking in a combined $5.8bn (£4.4bn) at the box office, there's clearly a huge appetite for our childhoods to be given the live-action treatment.
Pre-coronavirus, Disney clearly backed the film to make money – having spent a reported $200m (£160m) on making it.
But in an industry dominated by sequels and big franchises, should audiences be asking for more original stories?
'You've got to give us something fresh'
"There's an inclination to want to reach for the past," says Samuel Jones, co-creators of the movie review YouTube channel NitPix.
"The majority of films right now are sequels and remakes. They're ways to stay somewhere that's separate from our world."
NitPix's most recent video is called "How Disney Decimated Lion King". It's over an hour long.
One of the many criticisms of the film is that it's a watered-down version of the original.
"You end up with a film that's like kind of missing its essential nuts and bolts," says Samuel.
"[There's] none of the personality, none of the character, none of the things that like make us excited about what will make us like what the original Lion King did," adds Max Bardsley, Samuel's NitPix co-creator.
Max makes the point that remakes are nothing new.
"Art has always been founded on recycling assets from other pieces of art and reinvigorating those assets as a way to offer them to people in new ways," he says.
But his opinion is that these remakes are different.
"It's no longer about taking assets that you feel really excited about as an artist and reinvigorating those in a way that is an expression of yourself.
"It's more about taking assets that lots of people seem to like, re-offering those assets in a way that's not too insulting or not too unfamiliar so that we can be assured everyone will like what they're being provided."
"I think it's a shame though, because these films do deserve better," adds Samuel.
"You can look at any of these Disney films and get a lot of different ideas and themes and filmic concepts and great visual storytelling.
"But the easiest, risk-free option is the one that you usually take. And in these times when it's harder for businesses and harder for filmmakers, they're going to want to take even less of a risk."
The pandemic's not the only reason we're so drawn to that feeling of nostalgia right now. Samuel says technology has a lot to do with it too.
He thinks the internet and social media were meant to break down boundaries in society and bring us all closer together.
But instead, "We've realised that it hasn't brought anyone together that much. I think that can feel very disorienting."
And that leads people to "grasp on to something that they're familiar with".
The safety of childhood
It's not just at the box office where we see people reaching out for nostalgic experiences.
After a lifetime of Disney fandom, Emily got her dream job working at Walt Disney World in Florida for two summers while she was at university.
She describes her job there as "making people smile all day" and helping create a welcoming and friendly atmosphere.
While there were a lot of young families there, Emily says there were also a lot of adults who would go without children, on romantic getaways or stag and hen dos.
"You get people coming to visit and they've left their kids at home – because the kids aren't as interested as they are," she says.
Emily thinks escapism is one of the main reasons people love immersing themselves in Disney World.
"People are so invested in these stories," she says.
"We've all seen the movies, countless times – so getting to experience it in a different way I think is really appealing.
"It's also a very safe place – when you go into the parks you can't see the outside world."
Too much, too fast
But even as a huge Disney fan, Emily's worried the remakes might start to lose their appeal.
"Last year, people were getting a bit fatigued of it because we had Dumbo, Aladdin and The Lion King.
"Obviously it's been a while now since any came out. So I feel like people are ready again to kind of embrace that".
Mulan is slightly different as the signs are that it draws more on the Chinese legend than the Disney animation.
Fan favourite Mushu the dragon – voiced by Eddie Murphy in the 1998 version – isn't in it, and the songs have been cut.
"It doesn't have that star appeal, like Will Smith being the genie," says Emily.
"But fans of Disney will want to see it, especially to support those lesser-known actors and encourage Disney to continue making films like that.
"It does have greater diversity than what we've seen before."
After Mulan, Disney's announced nine "Disney live-action" movies to come out between 2021 and 2023.
We know they will include The Little Mermaid, Peter Pan and Cruella (a 101 Dalmatians origin story).
And it's very likely there will be more remakes of old animations – reports suggest they're working on the Hunchback of Notre Dame, Lilo & Stitch and Pinocchio, among many others.
Some of those may only be released on streaming service Disney+ in the same way 2019's Lady and the Tramp remake was.
It's not just animations that will get retold either.
It was announced in 2019 there are "reimaginations" of Home Alone, Night At the Museum, Diary of a Wimpy Kid and Cheaper By the Dozen in the pipeline.
And there's another Indiana Jones sequel on the way too.
With evidence to say that young people are feeling more distant from family and friends than ever before, nostalgia might just be our way of dealing with it.
"We've all grown up and we have to live proper adult lives," says Emily Talbut.
"But it's fun to go back in time".
Follow Newsbeat on Instagram, Facebook, Twitter and YouTube.
Listen to Newsbeat live at 12:45 and 17:45 weekdays – or listen back here.