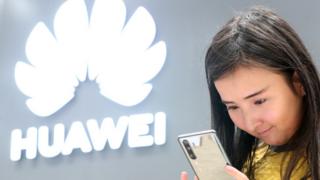 The UK government has announced a series of measures to remove the Chinese phone-maker Huawei from the UK's 5G mobile networks.
It will ban UK mobile providers from buying new Huawei 5G equipment after the end of this year and they will have to remove all of its 5G kit from their networks by 2027.
The government had previously said Huawei could be involved in the project but it changed its mind following growing security concerns about China.
What is Huawei?
Huawei was founded in 1987 in Shenzhen, southern China, by Ren Zhengfei, a former army officer.
It started making communications equipment for mobile phone networks and is now a global leader, employing 180,000 workers.
Huawei is the world's second-largest smartphone supplier after Samsung, with 18% of the market – ahead of Apple and others.
Which countries are concerned about Huawei?
At the heart of the debate is a simple question: can the West trust Huawei or will using its equipment leave communication networks, and our own mobile phones, vulnerable?
The US says Huawei could be used by China for spying, via its 5G equipment. It points to Mr Ren's military background and Huawei's role in communications networks to argue it represents a security risk.
Mr Ren was member of China's army, the People's Liberation Army, for nine years until 1983. He is also a member of China's Communist party.
But Huawei says this is not relevant: "When Ren Zhengfei was a young man, you needed to be a Communist Party member to have any position of responsibility."
Washington has banned US firms from doing business with Huawei (for example, designing and producing chips) and wants its allies to ban it from their 5G networks. Australia and New Zealand have joined the US.
For the UK, pressing ahead with using Huawei equipment could have affected vital UK-US trade talks (after Brexit) and the US warned such a decision could risk future security co-operation.
But deciding to ban Huawei from 5G in the UK, could risk Chinese retaliation such as a possible cyber attack.
5G: What are the issues?
Many countries are preparing to move from 4G to more advanced 5G mobile networks. Download speeds 10 times faster than today will radically change how we work, communicate and stream videos.
In theory, controlling the tech at the heart of these networks could give Huawei the capacity to spy or disrupt communications during any future dispute. This is important, as more things – from self-driving cars to fridges, baby monitors and fire alarms become connected to the internet.
The concern is that state-sponsored hackers could use these devices, which often have weaker security features, as back doors into strategically vital networks. For instance, this could make it possible to shut down a rivals' power stations.
But removing Huawei equipment from the networks will have a significant impact on the roll-out of the UK's 5G technology.
The Culture Secretary Oliver Dowden said it would be delayed by two to three years and with added costs of up to £2bn.
Is Huawei spying on us?
The US argues China's 2017 National Intelligence Law, which says organisations must "support, co-operate with and collaborate in national intelligence work", means Beijing could force Huawei to do its bidding.
Huawei says it's never been asked to spy and "would categorically refuse to comply". It adds: "We would never compromise or harm any country, organization, or individual, especially when it comes to cyber-security and user privacy protection."
To monitor the company, the UK set up the Huawei Cyber Security Evaluation Centre, which comes under the National Cyber Security Centre (NCSC).
In March 2019, it said it hadn't found evidence of malicious Chinese state activity, but it did identify some serious defects in Huawei's software engineering and cyber-security competence.
Announcing the ban on 14 July, Mr Dowden said NSCS has now "significantly changed their security assessment" of Huawei's presence in the UK's 5G network. He said the decision followed Washington's tougher stance on the company but did not give further details.
Are there alternatives to Huawei for 5G?
US buyers will almost certainly favour kit from US companies, such as Cisco, Juniper Networks, or Qualcomm.
In Europe, 5G manufacturers include Sweden's Ericsson and Finland's Nokia.
Nokia has issued a statement saying: "We have the capacity and expertise to replace all of the Huawei equipment in the UK's networks at scale and speed."
The government says it will look at "multiple vendors" and will bring forward a Telecoms Security Bill in the autumn.
What about Huawei phones?
The action does not affect Huawei's ability to sell its smartphones to consumers.
If you use a Huawei phone, it's very unlikely the firm's handing your data to the Chinese government, though it is possible. In the same way, technically, data from a Google Pixel phone could be handed over to the US government.
In March last year, Google halted Huawei's licence for Android – the operating system for most of the world's phones, aside from Apple's iPhone.
If your Huawei phone was issued before the ban it will receive Android updates, but newer models won't. However Huawei is trying to work around this.
How do you pronounce Huawei?
As Huawei is from Guangdong province where Cantonese is the main dialect, the firm says its name should be pronounced "wah-way". However, some Mandarin speakers argue that the name is pronounced "hwah-way".
Follow Newsbeat on Instagram, Facebook and Twitter.
Listen to Newsbeat live at 12:45 and 17:45 every weekday on BBC Radio 1 and 1Xtra – if you miss us you can listen back here.