Popular streaming services like Netflix are losing subscribers. With overpriced subscription plans, geo-restrictions and ads getting in the way, the experience isn't worth it anymore. 
If you plan to jump off these bandwagons, we've found the 8 best home theater center apps for you. You can store, stream, manage and enjoy media content with your friends and family on the big screens without breaking the bank.
Our Pick of the 8 Best Apps for Home Theater
Important note: Before using any home theater center app, ensure to download a VPN. While the apps listed in this post are legal to use, most of them are open-source. Malicious developers may sneak spyware into them and steal your data. 
Also, content that you upload to servers like Plex or stream on Kodi might be visible to Internet Service Providers and the government. You could face a lawsuit for streaming pirated content uploaded by other users. We share some tips on how to choose the best VPN for privacy and data protection. 
1. Plex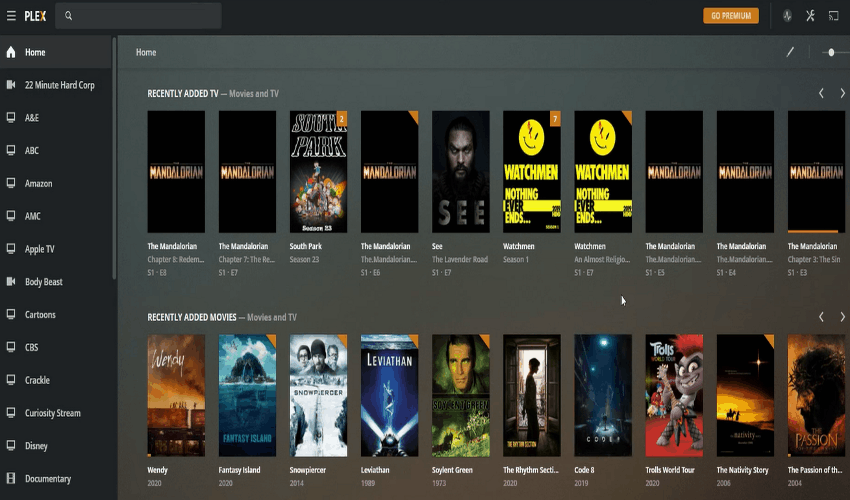 Plex is a streaming media service that brings an interesting twist to how you watch content online. Unlike your regular service where you're forced to pay for content you can't keep, Plex gives you the freedom to set up your own media server. 
You can then create a local media library to manage your personal collection of audio, video and photo files from any device and with any internet connection you wish. Added to that are pre-programmed channels where you can watch your favorite series and movies. 
Friends and family can also join in on the fun as you can share your library with them using the cross-platform Plex app. It's the dream storage platform for media content hoarders looking for more space for their devices.
Plex is compatible with most Smart TVs and other devices like Android TV, Apple TV, Chromecast, Fetch TV, Android & iOS smartphones, Windows & macOS computers, and even gaming consoles like Playstation and Xbox.
It also has a free version, but you have to upgrade to the Plex Pass subscription to access premium features like auto-tagging, automatic lyrics for music, offline mobile syncing, skip movie intros, full HD streaming, and early access to new Plex features. The plan comes in Monthly, Annual, and Lifetime packages and they cost $4.99, $39.99, $119.99 respectively.
---
2. Kodi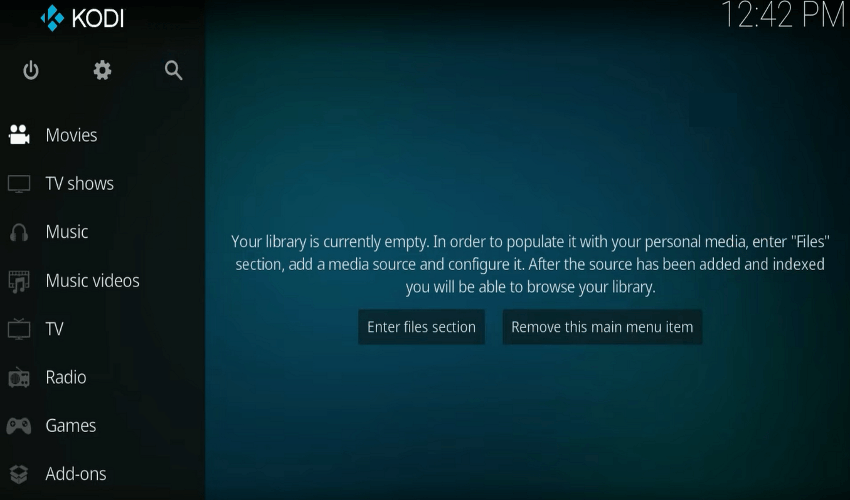 Kodi is a free and open source home theater center for streaming movies & TV Shows, IPTV, sports, live events, and more. So if you're a coder or developer, you can continuously modify and upgrade its features to install add-ons or builds for free.
How Kodi works is simple. Let's say you're having trouble streaming content from a website with your Apple TV or Firestick. The fastest way to bypass this issue would be to download the Kodi app on these devices.
You can then add your selected website to Firestick or Apple TV and stream its content using Kodi as your middle man. Basically, Kodi turns any device into a streamer as long as you have the app installed.
One major drawback of the Kodi app is that it doesn't come with movies and TV shows preinstalled. So you'd have to do the job of providing all the songs, TV shows and movies you want to listen to or watch. 
Kodi supports any device with the Android, iOS, Linux, macOS, tvOS, and Windows operating systems (OS). 
---
3. Stremio
Stremio is another free and open-source media center app you can use for your home theater. Like Kodi, it doesn't offer any of its own media collection. You'd have to pull streaming content by yourself from websites that offer them. 
Another catch is that Stremio doesn't have a native app for Smart TVs. That means you can't simply download it on your big screen and enjoy movies immediately. 
But there's a workaround for that. You can always download the app on supported devices like Windows, macOS, Linux, and Android smartphones, then cast media content from them to an Apple TV or Chromecast device. You can also do this with iOS devices, although the Stremio app for iOS doesn't support add-ons. 
Stremio supports Windows, Mac and Linux computers. Android and iOS devices are also supported, although iOS devices have limited functionality.
---
4. Synology NAS
The Synology Network-attached storage (NAS) serves as a multimedia server. It allows home theater devices like TVs, stereos, and others like Sony PlayStation and Xbox 360 to play its multimedia content. Users can also upload up to 100 folders of their own content to it.
The best part is that it integrates with the Plex Media Server. So if you already created local media libraries on Plex, you can download the app from the Package Center and begin viewing media content via the Synology Video Station app. 
Synology NAS also supports other media servers like Kodi and Emby. Setting up Synology NAS can be confusing on your first try. But here's a detailed guide that explains it all. 
---
5. Emby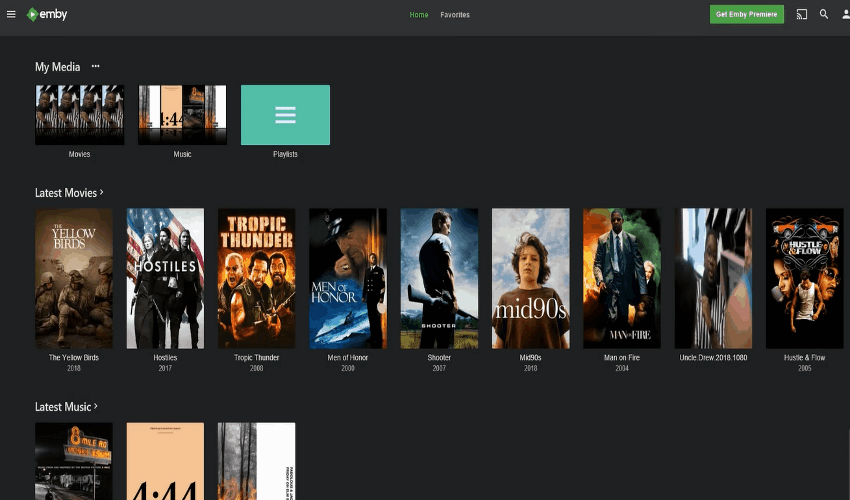 Emby, formerly known as Media Browser) is a streaming media server that allows users to watch movies, TV shows, music, view photos, even play games and read books. 
Most smart TV platforms like Android TV, LG Smart TV and Samsung Smart TV can access these media content via the Emby apps designed for them. 
Emby for Android TV supports 4K video resolutions, so you can watch high-quality videos at your convenience. The app also supports voice-activated search, which will save you the stress of typing every movie title you need to find. 
Additionally, Emby offers a Cinema Mode that plays trailers and custom intros before major movies. It'll give you the feeling of being in a real theater, but without the people. Unfortunately, the Cinema Mode comes with a paid subscription plan. So like Plex, you'd have to spend a little money to access all premium features.
---
6. Pluto TV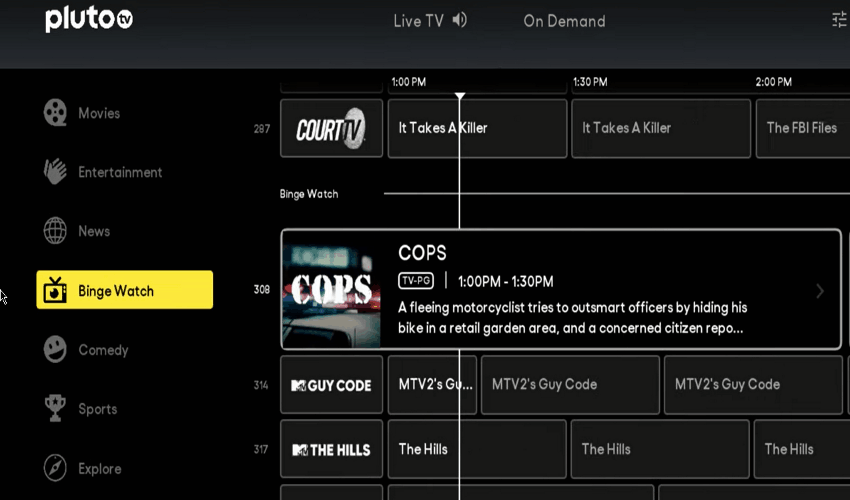 Pluto TV is a streaming service that's perfect for watching classics like Mean Girls and Titanic. It has channels like Comedy Central, AMC, Nickelodeon, MTV, and numerous Sports and News channels to keep you up to date with worldwide events.
While it offers around 250 channels for your entertainment, you'd be underwhelmed by its movie selections. It barely releases new titles, which is a bummer if you're always looking for new titles to excite you.
On the bright side, it's free. While that means you're safe from subscription plans, it also means you're going to see plenty of ads. Another drawback is that there's no DVR functionality, so you can't rewind, pause, or fast forward your way through shows.
Pluto TV supports Smart TVs from brands like Samsung, Vizio, and Hisense Smart TVs.
---
7. Tubi
Tubi is admirable for its extensive library of movies and TV shows. It houses over 20,000 different titles, all of which are free to access. Popular movies include Teenage Mutant Ninja Turtles, The Gambler, and even anime like Naruto and One Punch Man. 
Because the streaming service doesn't produce original content, you won't find movies like The Mandalorian, The Witcher, or your favorite Marvel and DC movies there.
The service is also free, so that means more ads. Unfortunately, Tubi doesn't support offline downloads and full HD streaming. The maximum resolution you can get is 720p. At best, Tubi is a budget option if you need a break from expensively priced services. 
---
8. YouTube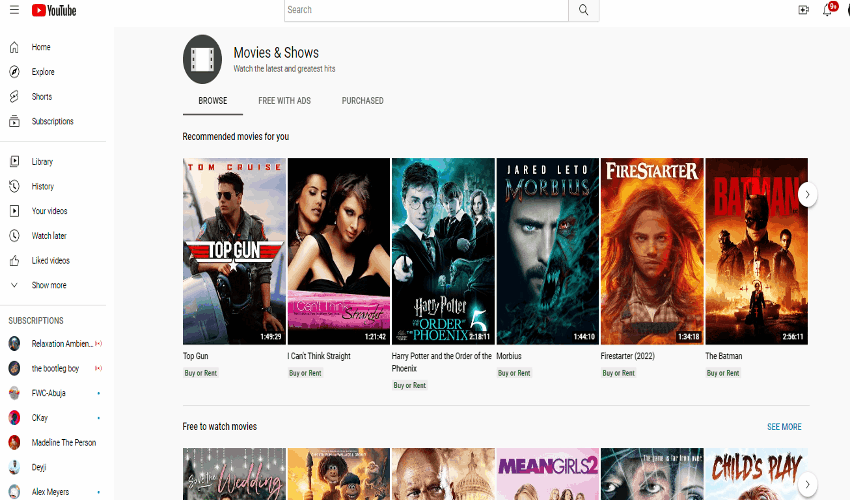 Everyone knows and loves YouTube, and for good reason. It's the place to go when you need to watch your video game walkthroughs, tech reviews, or even watch a movie.
YouTube has a Movies & Shows section where you can watch classics like Harry Potter and the latest movies like Venom: Let There Be Carnage. The app has no subscription plans, so you're not forced to pay for a full month or year.
However, you do need to rent or purchase the movies to watch them. This way, you pay for what you need at the moment. There are free options, but those come with ads.
Most Smart TVs come with YouTube preinstalled. But if your TV doesn't, you can cast it from your smartphone or use streaming media devices like Apple TV to access it. 
---
Conclusion 
We've seen the best home theater center apps, from Plex and Stremio to Pluto TV and YouTube. For users seeking a Netflix alternative, Plex offers reasonable pricing for its premium features. Even with a free plan, you can still enjoy viewing access. 
Users on a budget are better off with the free options like Tubi. YouTube is also in that category if all you want to do is watch music videos, walkthroughs, tutorials and catch up with your favorite channels. Overall, this list should help you pick the right platform for your entertainment.